Dateline: Thursday August 10, 1989
09:30. Meet Murakami-sensei.
Accounts
¥484
photos: English summer seminar
¥1480
groceries
rice ¥1320, bread ¥160
credit ¥10000
Payment: English Summer Seminar
¥1964
Total expenses
Journal
We have been in Beppu almost a week but have spent only two days in our apartment. We got back about 15:30. It felt so good to be home and alone. I tried to organize the apartment again and to establish a routine. Little things take a long time.
Doing Laundry
Because the washing machine is so small, I have to do three loads when in America I'd do only one. But there is not enough space on the clothesline to hang out three loads. So I can do only one load at a time. Now I know why there is laundry hanging from every balcony every day. The small loads are better for our small family but it means I have to do laundry every day.
The clothesline itself is quite different. Not a "line" at all, it consists of two aqua plastic poles, the modern equivalent of bamboo poles, that run almost the length of the balcony. I guess that this system developed in response to the need for airing out futons. (Although, in this neighborhood, most futons are hung over the balcony rail). For small items, such as socks, one clips them to special hangers. The clothespins are plastic, and very, very small compared with American clothespins. The Japanese housewives slip the arms of shirts through the poles to hang them, but I just put the shirts on hangars and hang them as if they were in a closet.
If only the closets had clothes rods! But they don't, as they are not designed for hanging clothes at all but for storing futons. I have no wardrobe and no dresser, so I've put a bookshelf in the closet to put folded clothes on. I have yet to discover a solution to my long dresses. Maybe that's one reason so many women wear skirts and shirts sets instead of one piece dresses.
Grocery Shopping
I must shop for groceries every day. We walk about 10 blocks to Kamegawa's market street.
Video: Kamegawa Market Street: 1991
I can buy only as much as I can carry. Also (even though we have a large refrigerator by Japanese standards), it is small compared to what I'm used to. There is not much storage area at all in the refrigerator or the kitchen (which is about 9′ x 9′). So it is better to shop daily and buy small portions that will stay fresh.
The supermarket where we shop, Marushoku, is comparatively new and modern next to the other stores on the main shopping street in Kamegawa. But it is half the size of the smallest grocery store in Austin, the Tom Thumb in Cassis Village. Some food items we readily recognize–like Ritz crackers. Others are quite mysterious. For me, used to the prices at Whole Foods Market, the prices here are not outrageous–certainly nothing as bad as I feared. For example, a package of chicken meat is about ¥300. Prepared meals of tempura and sushi are each under ¥300. Compared to restaurant prices or even to a ¥100 yen soft drink from a vending machine, supermarket prices seem very reasonable. I noticed that grapes are ¥300 yen in the supermarket but that the same package can be had at the green grocer for only ¥100. However, I find it easier to shop at the super than make a lot of little stops. Also, my presence flusters the shopkeepers which in turn makes us flustered.
Bathing
Bathing also takes time, planning, and instruction. The first night we were here Murakami-sensei called to say the housemother and next-door-neighbor, Negoro-san, would come over and show us how to take a "basu". We got ready to go out, thinking she was going to tell us how to take a bus, but it turned out she came to show us how to take a bath.
First, I must fill the plastic, aqua bathtub with cold water (this apartment has no hot running water). Then I must turn on the recirculating heater. Then I sit naked on a stool in the bathroom, and dip water out of the bathtub and pour it over myself, soap down, wash, and rinse off. After I'm completely clean, I can get into the bathtub. This part is heavenly and I would give anything to have a bathtub like this in America.
The first time I pulled the plug, I was alarmed when the water went gushing out on the bathroom floor. Not to worry, though. This is the design as there is a drain in the middle of the bathroom floor. Not only does this simplify plumbing installation and maintenance, it simplifies cleaning the bathroom.
Like everything else, bathing in Japan takes much longer than jumping into a shower in America. If I'm just soaping myself down, it's not too bad but if I have to shampoo my hair, the entire process takes almost half an hour. I think I'm going to cheat and shampoo my hair in the bath. I can't see any reason why I can't get soap in the bath if I'm the last one to use it and I don't run the dirty water through the heater. I long for a shower.
Notes from 2009
I can't believe now that I ever considered washing my hair in the bath. I do know that when it became winter our unheated bathroom with its unglazed window was freezing cold. So I would clean off and get into the bath. Then I'd lean over the side and wash my hair. But I never let the shampoo or conditioner get into the bathwater.
Like many things, I incorporated the Japanese-style "clothesline" into my life in Texas when I returned to Austin. I hung up a clothes rod from a closet outside on the edge of my porch and put my clothes on hangers to dry. I brought back a bag of those little clothespins, too–one of my many small purchases at the 100-yen shop.
Notes from 2019
1991 vs 2015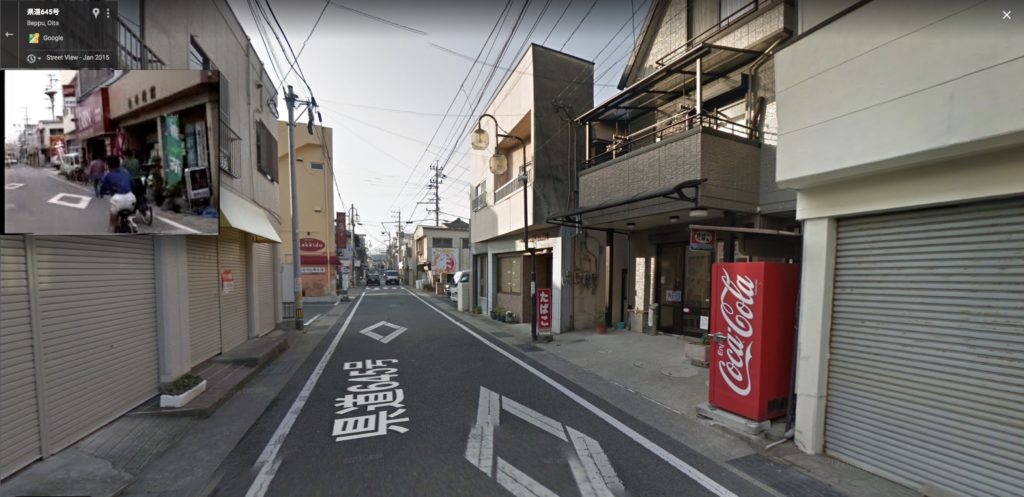 I took the video of Kamegawa linked to above in 1991. Today I can "walk" the same street in Google maps. I took a still shot from the video and put it in the inset to contrast then and now.
On this section of the street, the big red overhang of the tobacco store has been replaced and only a small sign saying tobacco (たばお) clues me in to where I am. Further down the street, the large red and white kanji sign for a rice shop (米) has not been repainted in a very long time. I wonder if the rice shop is out of business. (It does still appear on Google Maps).
As I wander around via Google street view, I see a lot of changes including a 7-11 (with a huge parking lot) added sometime in the 5 years.