Dateline: Monday August 7, 1989
Meet the governor of Oita-ken
Welcome lunch with private school AETs
English Summer Seminar
Suginoi Palace: hot springs bath
with Lee, Carolyn, Adrienne, Amy, and Takako
Accounts
| | |
| --- | --- |
| ¥3000 | photograph for alien registration card |
| ¥460 | train: Kamegawa to Oita (1.5)* |
| ¥100 | machine drink |
| ¥1000 | movie: Star Trek V and Indiana Jones (JQS) |
| ¥750 | shared taxi: Suginoi Palace |
| ¥2250 | Suginoi Palace onsen (1.5) |
| ¥100 | Suginoi Palace locker |
| ¥7660 | Total |
* Based on the one-way train fare, I'm guessing Murakami-sensei drove to school and then picked us up to take the train to Oita. I don't know why she didn't just drive us to Oita as she drove her car to work every day unless it was part of training us how to get around on the train. And she had to have her car in Oita to drive us back to the Summer Seminar.
Notes from 2009
Oita-shi
This was our first time in Oita-shi (literally Oita City to distinguish it from Oita Prefecture but I'll just refer to the city as Oita from now on). I remember Murakami-sensei pointing out the shopping street and comparing it to the Drag by UT (which she had visited the previous year). The walls were covered with movie posters. JQS, being able to read katakana, impressed her and amazed me by spotting and pronouncing Godzilla correctly: ゴジラ (pronounced "go-zhi-ra" not "god-zill-uh").
Aisatsu
Murakami-sensei had her duties cut out for her as she shuttled us around from one bureaucratic office to another. We had to get my alien registration card, open a bank account (Google Maps: Oita Bank Aug 2018), meet with the mayor of Beppu, the governor of Oita-ken, the head of the private school board, and I don't remember what else.
All these aisatsu [meet and greets], rolled over me like water. In the end I think everyone was exhausted with ceremony. I wasn't cut out for the life of a politician or a beauty queen but I did my best to smile and bow and have my photo taken–to behave like a little trooper for the cause of internationalization.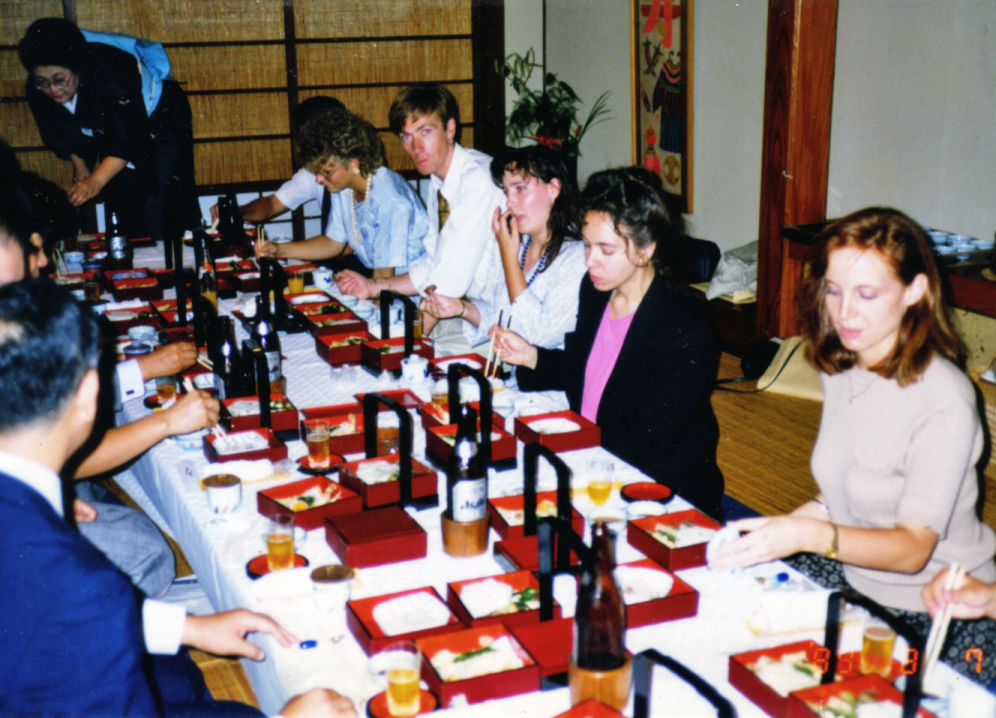 We private school AETs were given a welcome lunch. JQS didn't attend that. At some point after meeting the governor, Murakami-sensei took him to a movie theater and dropped him off so he'd have something to do while we were running around being introduced to officials. He watched Star Trek V and Indiana Jones. He's told me recently that he remembers on subsequent trips to Oita going to the bookstore in the basement of Parco and reading the English-language movie transcripts (probably while I was browsing nearby at Muji).
Chotto matte!
I think the first words of Japanese I really learned were chotto matte. "Just a minute…wait here. Wait a minute. Just stay right there! Don't move!" And off Murakami-sensei would dash to talk to this and that bureaucrat. I was like a small child being parked on a bench while my mom ran off to do errands. And rightly so. I was just as ignorant and helpless as any child thrust into the unfamiliar workings of the adult world. And happy not to have to struggle with dealing with it by myself. As a single parent at the time, I found it a relief for someone else to be in charge of all the paperwork and worry. Maybe that's something that made me different than the other foreigners on the JET program…most of whom were just out of university and itching to assert their independence as newly formed adults.
English Summer Seminar
Exhausted though all three of us were by, rather than get to go home after our day in Oita, Murakami-sensei whisked us to a hotel on Beppu Bay to participate in the annual English Summer Seminar for High School Students. My first teaching gig with zero heads up and zero chance to prepare.
The teachers had dinner in a small private room where I overheard a couple of fellow foreigners wonder who JQS was. "The Japanese won't like that there's a kid up here." The Japanese, however, seemed absolutely charmed by JQS. The head guy spent the evening doing origami with him.
We went off in a taxi full of teachers to the Suginoi Palace onsen to take the waters at one of Beppu's most lavish and tourist-y spas. However, for seem reason I didn't understand that one could visit any hotel's onsen and pay a small fee to bathe even if one wasn't staying at the hotel. We could have explored onsen all over Beppu, something I didn't really do until my second year. By the end of my time in Japan, going to the onsen was part of my weekly shopping trip in town.
Onsen: Suginoi Palace
Even Dave Barry has been here…the Las Vegas resort of hot springs baths.
The have and English home page now. I'm going to have to do a separate post on it.
Notes from 2019
[…]