Dateline: Sunday August 6, 1989
Accounts
| | |
| --- | --- |
| ¥3752 | groceries, 13:11 Marushoku |
| ¥112 | consumption tax |
| ¥3864 | Total |
Two Rooms, a Bath and a Kitchen
Finally, finally we get to see our apartment. When Murakami-sensei wrote last summer and said it was 'two rooms, a bath and a kitchen' my American coworkers wondered if it consisted only of two rooms, one being a bath the other the kitchen. But it is two 6-[tatami] mat rooms (making a main room about 12 feet by 18 feet), a kitchen, a room with a toilet, and a room with a Japanese-style bathtub. It is much larger than I expected, about the same size as the first floor of our condo…but just as roomy because we have only what's in our two suitcases and no furniture to clutter it up. I love the tatami and the futons and the shoji. When we first opened the front door, the tatami smelled pleasantly of slightly damp straw. My only wish is that we were on the top floor instead of the second floor so that we had a view of the bay from our windows. Here we are less than a mile away from the sea and we can't see it.
I'm the first foreign teacher to live here and the school has done much to make us comfortable. They have purchased a new refrigerator (large by Japanese standards) and a new washing machine (extremely tiny, but with an automatic rinse cycle which I've heard is lacking in many older machines). They have provided a few dishes and pots and pans, a 2-burner gas stove (no oven), and a toilet converter (a plastic toilet seat that fits over the squat toilet to mimic a Western-style sit-down toilet).
Tonai-sensei and the missus walk us over to the main shopping street in Kamegawa (the neighborhood we live in, in north Beppu-shi). They take us grocery shopping at the newest supermarket, which is larger than any other store in the neighborhood, but smaller than event the health food stores in Austin. It's about a 20 minute walk back to the apartment in and out of the alleys of Kamegawa and I can see that it's going to be a struggle to carry the amount of milk and juice we normally drink.
We are finally left alone to settle in and I'm so happy. But in this first moment to ourselves, Murakami-sensei calls to say that Negoro-san is going to show us how to take a basu. Although I don't really want to learn to take a bus right now, we get ready to go out again and wait for Negoro-san. When she finally comes by, it turns out she's come to show us how to take a bath. The apartment doesn't have hot running water, so the tub has to be filled and then the water circulated through a heater (like a hot tub).
What I Learn In Time About Our Apartment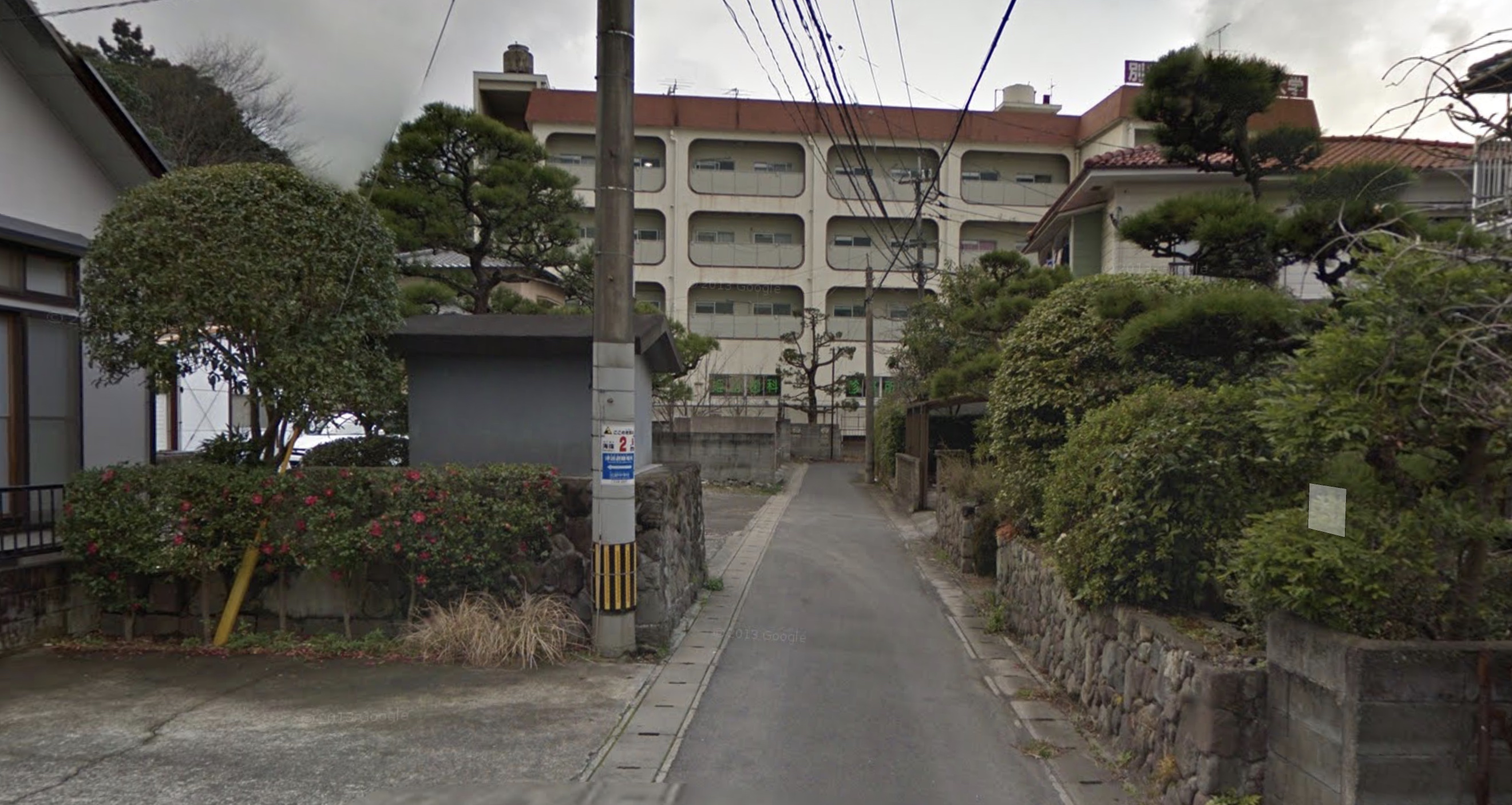 Our apartment is really a dorm room for high school students. Four students usually share one apartment. Only a few high school students board here; I think it is just the badmitton team because they put in such long hours of practice in addition to their long hours of study. Next door lives Negoro-san, who works in the school office and acts as dorm mother. Her very aged father lives with her.
The apartment is built with its long walls exposed to the outside (in contrast to American apartments in which the short walls are exposed to the outside). The difference is logical. Our apartment, like most in Japan, has no central heating or cooling. In America, which does, architects want as little surface area contact as possible so that the apartments can contain their artificial environment economically. In Japan, the houses are built to take advantage of the natural environment–at least old ones were.
The long east wall has two sliding glass doors. In the winter, sunlight can stream in to warm the house. In the summer, we can leave the doors open to let in the breeze off the sea. If this had been a traditional house, we'd be able to open up the house even more by taking the doors off completely; unfortunately, modern sliding glass doors only open on one side.
In the summer, when all the doors of a traditional house are open, I think that traditional Japanese houses look almost Polynesian. We, too, keep our doors open and, yes, the bugs come in and out freely.
The Japanese design works best in the humid summer, if you live in a traditional house and live in the country where they can catch the breeze. In a modern apartment in the city, summers are stifling hot. And no matter where you live, winters are bone-chilling by American standards.
Notes from 2019
Yesterday I made the mistake of using Google Maps street view, to walk the streets of Kamegawa. At first I was thrilled but, of course, in the intervening years it's changed dramatically. Our apartment building still looks the same. However, Uneed (the supermarket we first shopped in 30 years ago) is gone, or maybe just undergoing renovation. In 1989, it was the one modern and tall concrete block building on the main shopping street of Kamegawa.