Dateline: Saturday August 5, 1989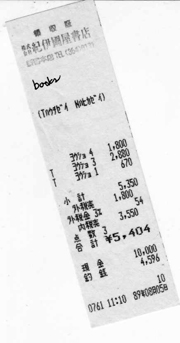 Exchange Traveller's Checks: $100=¥13591
The rate is better than it was earlier this week.
Check out of the Keio Plaza Hotel
Shopping with Murakami-sensei in Shinjuku.
Flight from Tokyo to Oita.
Dinner on the way into Beppu.
Meet the Tonai's and spend the night at Tonai-sensei's house.
Accounts
| | |
| --- | --- |
| ¥2880 | Takahashi's Pocket Romanized English-Japanese Dictionary |
| ¥670 | Martin's Pocket Dictionary |
| ¥1800 | Karuta Cards |
| ¥54 | tax |
| ¥2550 | lunch |
| ¥400 | postage: 5 stamps @ ¥80 |
| ¥950 | dinner |
| ¥9304 | Total |
Tokyo: Shopping in Shinjuku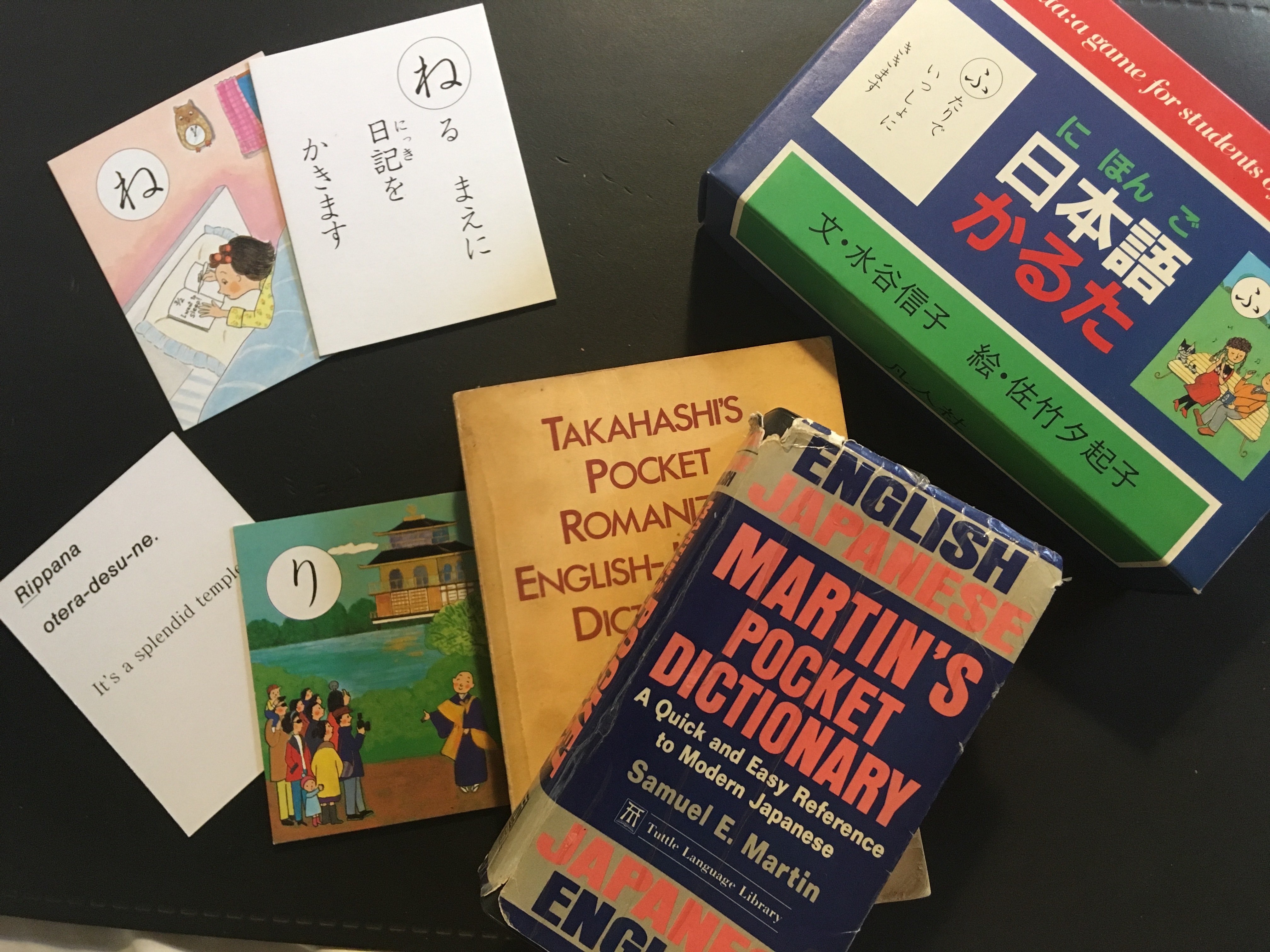 Before leaving Tokyo, we go shopping in Shinjuku with Murakami-sensei. We have lunch at a restaurant in Isetan department store, then head over to Kinokuniya bookstore, where I buy two dictionaries and a pack of karuta cards so that JQS can practice his hiragana.
Perhaps Murakami-sensei urged me to buy the more expensive Takahashi dictionary because the Japanese words were written in kanji as well as romaji. However, it was not a dictionary I used much or needed. The school had plenty of English-Japanese and Japanese-English dictionaries I could have used at work. I think it was probably a dictionary more useful to her; I could look up a word in English and she could see the Japanese for it, written in Japanese script.
Martin's was much more useful choice for me as a beginner. And it was small enough that I carried it everywhere. I still use it in 2019…although I rely mostly on the Mac iOS built-in Dictionary.
Related: About Kinokuniya
In 2019, even Oita-shi has a Kinokuniya. And so does Austin! But in 1989 it was one of the wonders of the big city.
Kinokuniya's South Shinjuku Store is located about an 8-minute walk from the New South Exit of JR Shinjuku Station. It is across from the Takashimaya Square building.
Kinokuniya: Austin, TX
Who would have thought that 30 years later, we'd have our Austi would have it's very own Kinokuniya!
En Route: From Tokyo to Beppu

On the plane flight from Haneda to Oita, I hope that I will see Fuji-san, but it is obscured by clouds.
We arrive at Oita airport I can hardly wait to see our new home, but first we stop at a restaurant for dinner. I thought we'd finally see our apartment and have a chance to get settled. I've been very anxious to see where we're to spend the next two years, what our "2 rooms, a kitchen, and a bath" is like. But Murakami-sensei hands us over to the charge of another English teacher, Tonai-sensei and we are to spend the night at his house, only a maddeningly few blocks from our school and our apartment.
Beppu: First Impression
We drive into Beppu at twilight. A mist hangs on the mountains. The rice fields and gardens seem like a scene from a picture book. We meet Mrs. Tonai, who speaks no English, and runs in and out of the kitchen offering us Japanese pears (which are round and not pear-shaped) and other treats. We all make a feeble attempt at polite conversation before getting ready for bed.
Before going to bed, Tonai-sensei encourages me to use his bath, which is a hot springs bath. I'm too tired for the pride in his voice to register on my consciousness. Taking a hot springs bath (I learn over the next few months) is indeed one of the wonders of living in Beppu and having a spring-fed ofuro in one's house is special indeed. He can't explain this. Or maybe he doesn't want to contradict a guest and a foreigner. Instead, to his obvious disappointment, I opt for a quick shower. Exhausted with the struggle of trying to interact with so many people I've just met and with whom I can barely communicate, I just want to get into bed.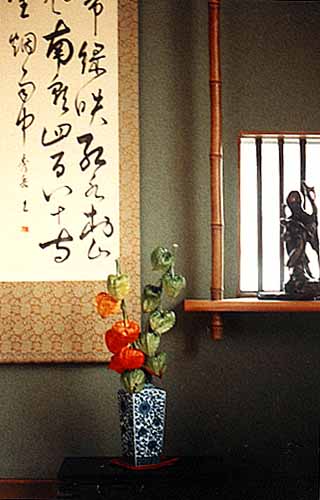 We climb the steep Japanese stairs (more like a step-ladder than a staircase) to our room on the second floor. It has been laid out beautifully by Mrs. Tonai, a scroll and a vase of Chinese lanterns in the tokonoma.
A wind is blowing from the south. I am glad that I'm used to a futon and sleeping with my window open. (Tonai-sensei reassured me that it was safe to leave the windows open at night.) The noise of the cicadas awakens me.