I bought the seeds for clammy-weed from Select Seeds where they were listed as "Cleome - Spider Flower 'White' (Cleome marshalli). Although Select Seeds' description distinguished this plant from true cleome, for several years, based on the name listed, I persisted in believing this was a type of cleome. I guess "clammy-weed" is not a very marketable name. I should perhaps more fairly name blame the botanists, who at one time classed it as Cleome marshalli.
The flowers are airy and pretty, but scentless. However, the leaves have a sharp scent when brushed that I find slightly unpleasant. And they do feel clammy.
Clammy weed self-sows readily, but is not invasive. I scatter its small reddish-brown seeds whereever I want to fill in an empty spot. They grow best in full sun. You can shear the seedpods off to keep them bushy and blooming. Although, they grow so quickly, I rarely do this.
In the meadow, where they are watered only by the rains, the plants grow about 1 foot tall. Where they've sprung up in the garden bed, they can be 3 feet tall and bloom continuously even through the dead of summmer. Over the years, I've come to respect them as airy filler plants.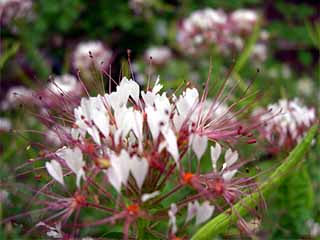 Polanisia dodecandra reseeds easily. 2003-06-08 Austin, TX
Polanisia dodecandra 2002-04-15 Austin, TX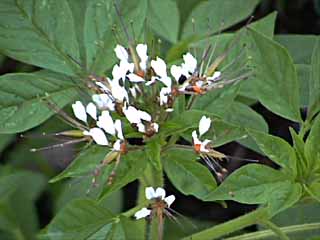 Polanisia dodecandra 2002-04-15 Austin, TX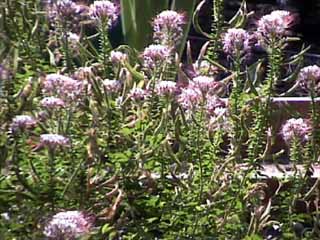 Polanisia dodecandra with seedpods 2002-06-18 Austin, TX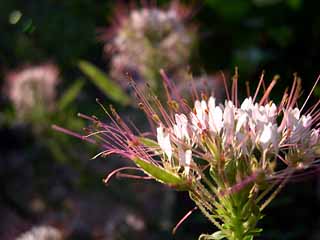 Polanisia dodecandra 2003-08-18 Austin, TX