A native of South Africa, plumbago adapts well to central Texas. It's glossy yellow-green leaves and pale sky blue flowers are a refreshing sight even on the hottest days of an Austin summer, if you water it. It is moderately drought-tolerant, but it requires some supplemental water if it is to thrive and produce abundant bloom. Some summers, like the notoriously hot summer of 2000, it will stop blooming until the rains return in fall. Usually, it's a very carefree plant, and manages well on neglect when I'm busy fussing over the roses. A hard freeze will kill it back to it's roots, but it comes back every spring. I've seen large bushes of plumbago that have apparently survived several seasons in the Bouldin neighborhood. They are four feet high and very bushy
"Plumbago is propagated easily from seed, cuttings and suckers. Sow seed in spring in seedling trays. Use good seedling mix and cover the seeds lightly. Do not allow to dry out. The easiest method of propagation is to remove rooted suckers from the mother plant. "-- PlantZAfrica Because plumbago prefers a slightly acidic sandy soil, the leaves may turn yellow in Austin's limey clay.
There is another leadwort, Ceratostigma plumbaginoides, (aka Plumbago larpentiae), which is from China. It's touted as a groundcover. I've never grown it, though. According to Neil Sperry's Complete Guide to Texas Gardening "From Central Texas northward, it is used as a tropical color plant. Tropical annuals endure the heat of a Texas summer. Many of these are really perennials where they grow natively, but they're well suited to one-season culture in the Texas landscape.Morning sun, afternoon shade."
Garden History
1995-03-19. Planted. 1998-08-28. After the first fall rain the plumbago is a startling display of pale blue. It is the most striking it has ever been. I have fed it monthly with superphosphate and watered it more this year. But it has suddenly responded now at the first hint of fall weather. 2006-03-16. Although I didn't cover the plumbago during any freezes last winter, it is coming back from its roots nicely. We have had a very mild winter, though.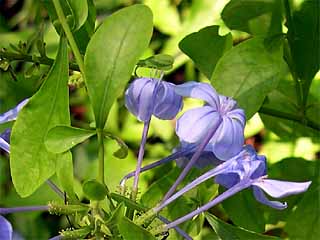 Plumbago auriculata. 2003-08-12 Austin, TX