Near or far, Nigella damascena is one of the most interesting looking flowers you can grow. Looking at it from a distance, the flowers massed in a meadow, they seems to float in a mist. Focus in on a single flower and you might think it's something Dr. Seuss dreamed up. The papery seedpods are just as decorative as the scentless flowers and a favorite for dried flower arrangements.
Nigella damascena is ridiculously easy to grow. It sneaked into my garden five years ago via a bonus seed packet. From those few seeds, it's threatening to takeover the spring meadow. There are several named varieties in white, blue, and shades of pink. The ones in my garden began as 'Persian Jewel Mix', but now produce mostly small blue flowers with an occasional white or double.
Plant it in a meadow or bed that's where the soil is a little on the dry side, and not too rich. (If you waste fertilizer on it, it will just grow large and leafy, without many flowers. In Austin, plant it in the fall (October through December). Like larkspur, it will send down a taproot and form a rosette of feathery leaves during the winter. As temperatures warm up in February and March, flower stalks shoot up. If it's a dry spring, give it water and it will grow large and erect. Without water it tends to flop over. If you love a neat and orderly garden, don't plant Love-in-a-Mist. It self-sows freely and can become weedy. (As I write this I'm thinking, wow, if it can become weedy in Austin, it must be a monster in more cultivated areas.)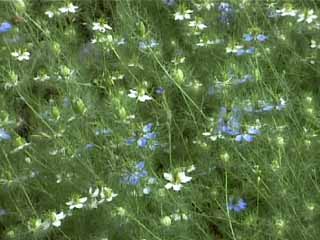 Nigella damascena 2002-04-20 Austin, TX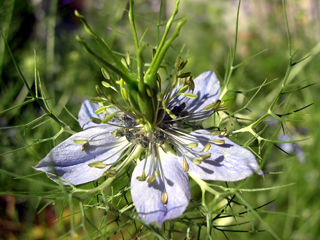 Nigella damascena 2003-04-25 Austin, TX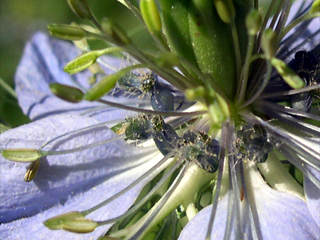 Nigella damascena 2003-04-25 Austin, TX
Nigella damascena 2003-05-19 Austin, TX
The seed pods can be used in dry flower arrangements.