Plant Profiles > Lilium longiflorum-asiatic hybrids
In the 1970s, the breeders at Sun Valley Bulb Farms in California produced a new type of lily by crossing Lilium longiflorum (trumpet lilies, such as the Easter lily) and Asiatic hybrid lilies. These L.A. (longiflorum-asiatic) hybrids are reputed to be exceptionally vigorous and disease-resistant.
I didn't know any of this when I bought 'Spirit' from Dutch Gardens; I just liked the rosy-beige color.
'Spirit' is one of the few bulbs I've ever grown which looked exactly like its glossy catalog photo. The next year I bought 5 more, but received pure white flowers. Unfortunately, Dutch Gardens no longer carries 'Spirit'. The two original bulbs have come back faithfully for four years. I have not lifted or moved them. I keep them well-mulched, but because lilies can rot easily, I do not water them or manure them.
The lilies I love the best are those intensely fragrant, delicately freckled, oriental lilies. Of course, oriental lilies are the least likely of any lily to do well in an Austin garden as they are late-blooming and crave acid soils and cool temperatures. This did not prevent me from trying the upward-facing Lilium 'Arena'. It bloomed once, though not vigorously. It didn't have much impact in the garden, but it did open beautifully when cut and brought indoors.
In 2000, I tried 'Sierra Nevada'. It didn't bloom that year. (I think that lilies bought from catalogs are shipped too late for planting in Austin.) I was amazed when it sent up a stalk in the spring of 2001. But by the time it began to bud, the June temperatures had reached the high 90s and the stalk died. Perhaps if I tried forcing them in a pot...
Garden History
2003-04-16. First flower, a pitiful attempt on a six inch stem, near the wisteria. However, it is beige, not white this year. Is the color affected by the sun or heat?
Sunday April 18, 2004 First Flower. Exactly as in 2003, a pitiful attempt on a six inch stem, near the wisteria. However, it is beige.
2005. No plants from this group at all. I suspect they rotted away during rainy summer of 2004.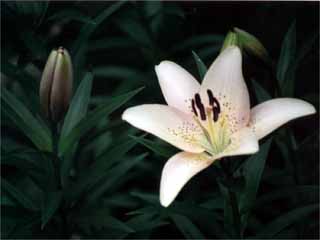 Longiflorum-Asiatic Hybrid 'Spirit'
March, 1999 Austin, TX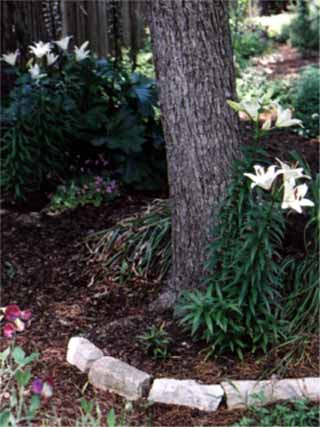 Spirit Lilies May 2001 Austin, TX