My first memory of rose of Sharon is during spring term finals at St. Edward's University. One path was lined with deep green bushes. The flowers were so large and deeply colored they looked like tissue paper flowers stapled on for a Homecoming dance.
This deciduous shrub is not a rose at all, but a member of the Mallow family. Left unpruned, the rose of Sharon can grow 12 to 15 feet. I prefer to keep it pruned to hedge height and pruning results in larger flowers. The woody stems are soft and easy to prune.
The house came with one rose of Sharon planted under the eaves which was always growing up onto the roof. Looking out the window, all I could see were ugly branches. A couple of years ago, I removed it entirely and planted a different cultivar in the south border. It has doubled in size in two years and is now four feet tall and beginning to provide a nice screen from the neighbors.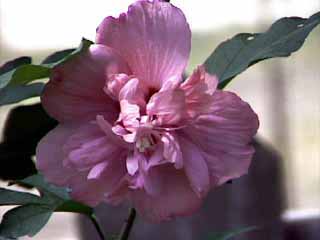 Hibiscus syriacus 2002-05-26 Austin, TX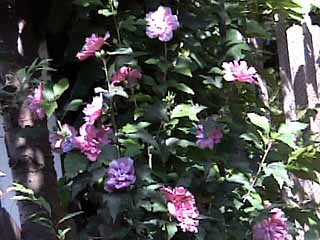 Hibiscus syriacus 2002-06-18 Austin, TX