A Central Austin Garden
Mine is a little garden enclosed from the street, though not from public view, by a short picket fence. My 1946 house sits on an urban lot, 100 feet by 150 feet, in South Austin. Until a few months ago, I could see the capitol building when I looked up from my weeding. Now I can catch a glimpse of it only if I lean over the fence in the front yard. The yard has old cedar elms and pecans (old in the sense that they have stopped growing up and are now falling down) and a struggling lawn of St. Augustine grass.
An Incomplete Garden
I didn't set out to make a garden. When I moved here in 1993, the yard was shaded by mature cedar elms and was, for most of the year, the deep green of old trees, old bushes and old lawn. That green satisfied the desires of my desert-born eyes. I bought the usual 6-packs of annual flowers and dotted them here and there. Of course, they were not a success. But I was busy with a new job and more focused on fixing up the house than the yard.
Just having a yard was a relief and a comfort after ten years of living in apartments. Natural curiousity drew me outdoors and then led me to the library to learn what plants I had, what plants I should have, and how to approach the whole business of gardening.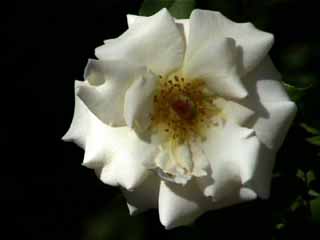 For me "garden" is more of a verb than a noun; my yard is in the process of becoming a garden. I cannot garden in a big way. I lack the resources, both time and money, to install a landscape. And I lack the inclination. So the garden is growing very slowly.
I'm no longer in a hurry for my garden to be finished. I know now that it will never be finished. There might have been a time when I pictured myself sitting in a Adirondack chair, sipping rioja, and reading among the flowers, but this is not to be. I simply can't sit still in the garden. I try for a moment or two and then see a weed that must be pulled, or a plant that needs water. I walk around a lot. I touch the plants, and pull off bugs, and put my face in the grass. I'm happiest with my hands in the dirt.
A garden is a living thing, like the plants in it, like the gardener in it. Together we grow, always changing, never finished, incomplete.